The Best Plumbers in Lindenhurst
Most of the time, when you've got a plumbing problem, it's a real emergency, and you need help ASAP. In fact, if you are still reading this section and haven't already called for support — let us tell you a little more about our company and what we do. At Water Tight, we're the experts when it comes to fixing, replacing, or cleaning sewer lines. Whether it's regular plumbing maintenance or a plumbing emergency, we've got you covered with our licensed plumbing services.
It may be time to call the most reliable plumbers in Lindenhurst if you are experiencing the following:
Restricted water flow
Sunken ground
Difficulty cleaning lines
Our most sought-after sewer services are:
Sewer Line Piping Replacement
Replacing piping that has cracked or collapsed, is leaking from decayed joints or was simply subpar at the time of installation.
Sewer Blockages
Locating and removing sewer line blockages such as grease buildup, foreign objects, and tree roots.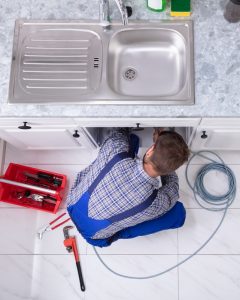 Call on Water Tight when you need a fast and reliable plumber in Lindenhurst. We have licensed professionals ready to help and make sure your home or office is fully functional! With over 25 years of experience in residential and commercial plumbing work, there isn't a plumbing problem that we can't solve. No problem too small, and no issue too large for the team of experts at Water Tight Plumbing & Sewer!
Our primary service areas include Kenosha, Pleasant Prairie, Beach Park, Winthrop Harbor, Zion, Grayslake, Waukegan, Libertyville, Lindenhurst, and North Chicago. We're available 24/7 for plumbing emergencies including sewer leaks, repair, and replacement. Make sure to follow us on our Facebook page to keep up with all things Water Tight Plumbing & Sewer, the best plumbers in Lindenhurst.
Residential & Commercial Sewer Repair Services
Sewer system problems, especially blocked lines, can result in a messy situation if you do not call for repair in a timely manner. That's why it's recommended you have your sewer lines cleaned every 1.5 – 2 years; to keep the lines free of obstruction and working properly.
Signs of a blocked/clogged sewer line include slow or stopped sink drains, frequently clogged toilets or overflows, and when things get really back, your floor drains may back up. If you notice wet spots appearing in your yard, smelly drains, increased pest problems, or a sump pump that is working overtime unexpectedly; there may be a problem with your sewer line pipes. Contact your favorite plumbers in Lindenhurst and schedule an inspection and repair estimate at the first sign of sewer problems.
When doing sewer line repairs, we do everything we can to minimize the disruption to your landscape. If your sewer lines lack access points, we may recommend cleanout installations to make future sewer inspections & cleanings easier and more cost-efficient.
Trust Water Tight Plumbing & Sewer for:
Sewer Rodding

Drain Cleaning

Sewer Inspection

Sewer Line Repair

Sewer Cleanout Installs
 "Highly Recommended Plumbers in Lindenhurst!"
Trusted Plumbing & Water Heater Repair
Don't hesitate to contact us for an estimate on water heater installation, maintenance, or repair. As your 24/7 Plumber, we'll get back to you as soon as possible. Call 847-623-6810 for emergency services.