24-Hour Plumbing Services in Libertyville, IL
Water Tight Plumbing & Sewer offers 24-hour plumbing services in Libertyville, IL. When you need plumbing help – day or night – you can count on our licensed plumbers for a prompt response and effective repair solutions. We pride ourselves on 100% customer satisfaction on every job; whether we're installing new plumbing fixtures, unclogging a shower drain, or fixing a leaky faucet. Call us at 847-362-3699 to speak with our Libertyville plumber and to schedule service for your home or business.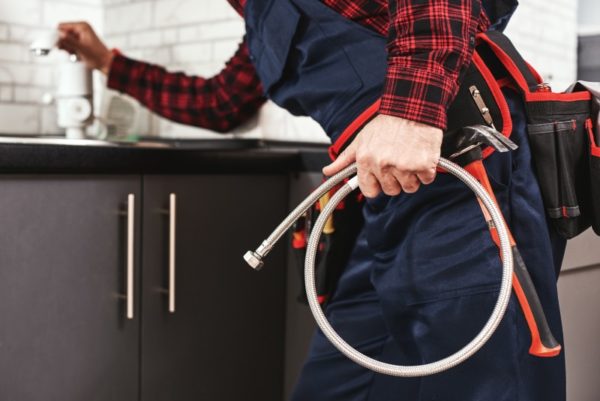 For over 20 years, Water Tight has been a reputable choice for plumbing in Libertyville and the surrounding areas in Lake County, IL. You can depend on Water Tight for plumbing services including:
Plumbing Installs
You can trust our professionals with the installation of residential & commercial plumbing systems including drains, water lines, gas lines, water heaters, sinks, toilets, faucets, showers, and so much more. If you're working on a remodel or new construction project in NE Illinois and need a sub-contractor for plumbing work, Water Tight is an excellent choice. Our experience & dedication to quality ensures new plumbing installations meet the highest standards for safety & efficiency.
Plumbing Repairs
Our local plumbers help homeowners & businesses in Libertyville with plumbing repair of all sizes. If you have a water heater problem, clogged drain, burst or cracked pipe, toilet or bidet issues, leaky faucet, broken garbage disposal or dishwasher, malfunctioning sump pump, or any other plumbing issue; count on Water Tight for superior repair services.
Emergencies
When you have a plumbing emergency, call on Water Tight. We're available 24/7 because we know plumbing emergencies don't happen when it's scheduled or convenient. If you're ankle-deep in water, can't get your toilet unclogged and have guests coming over, or you fear a sewer backup; call on Water Tight!

Sump Pumps
Our professionals are experienced in sump pump and ejector pump services. We can help you with pump installations, replacements, inspections, and repairs. Many homes, especially older ones, rely on sump pumps to prevent flooding in their basements during the rainy seasons. If you notice problems with your sump pump, like it not turning on when needed, call us for service.
Water Heaters
We repair and install water heaters of all types, including conventional and tankless, electric and gas. If you need to install a power vent or expansion tank, we can also help. No one likes a cold shower. If your water heater's pilot light is on but you have no water, give us a call. If you can't get the pilot to light, call us. We'll examine your water heater, diagnose the problem, and complete repairs quickly. If water heater replacement is necessary, we can handle that too.

Libertyville Sewer Repair Services
Water Tight provides top-quality sewer services in Libertyville, Illinois. We can help you with sewer line repair & replacement, sewer inspections & rodding, drain cleanout installations, and more. If it's time to have your sewer serviced, give us a call to learn more about our qualifications, availability, and what costs to expect.
Our licensed professionals excel at:
Sewer Inspection
Your sewer system carries wastewater away from your house. When there is a clog from grease buildup or a blockage from tree roots, it becomes more difficult for your pipes to move and dispose of waste properly. If you have not had your sewer lines cleaned in some time and are noticing signs of stress like slow or stopped drains and toilet problems, call Water Tight for a sewer inspection. Using state-of-the-art cameras, we can thoroughly examine your sewer lines & piping and accurately pinpoint the cause & location of any blockage or damage.

Sewer Rodding
Working plumbing is a commodity we don't appreciate enough. We help homeowners, businesses, and property managers in Libertyville keep their sewers clean so that they can enjoy efficient plumbing systems. Sewer rodding is recommended every 1.5 – 2 years to keep sewer lines clear and free of clogs. When Water Tight is on the job, you can trust that your sewer line will be thoroughly cleaned without incident. Did you just buy a new home? Schedule a sewer inspection to see if cleaning is necessary before you move in.

Sewer Line Repair
Water Tight is a qualified choice for sewer repairs, including the replacement of bad pipes and the removal of any blockages. We have the experience and equipment necessary to repair sewer lines & piping with as little disturbance to your landscape and sewer system as possible. If you have frequent plumbing or sewer problems, we can make recommendations for reduced repair costs going forward. Schedule sewer inspection and get a quote for repair today – call us!
Cleanout Installation
Sewer cleanouts provide easy access to your sewer lines for cleaning and repairs. Most homes have at least one sewer cleanout on their property. If you don't, installing a drain cleanout will reduce future repair & maintenance costs. If your sewer is prone to clogs, we'd be happy to discuss options for installing additional cleanouts on your property to make rodding & repair more efficient going forward. If you're ready for a quote, call us!

Sewer Emergencies: Neglecting the maintenance & repair of your sewer lines can lead to a sewer backup. That is a mess no homeowner or business wants to deal with. If you experience a sewer backup, call our local plumbers for immediate help.
Trusted Plumbing & Water Heater Repair
Don't hesitate to contact us for an estimate on water heater installation, maintenance, or repair. As your 24/7 Plumber, we'll get back to you as soon as possible. Call 847-623-6810 for emergency services.