When You Need Plumbing Help, Call Our Kenosha Plumbers!
When you need plumbing services in Kenosha, Wisconsin; call Water Tight! We have licensed plumbers in your area ready to assist you with plumbing installs, repairs, and sewer services. We're available 24/7 for residential and commercial emergencies. Call us at 262-484-4520 to speak with our professionals today! We'd be happy to schedule an appointment or give you an estimate for service.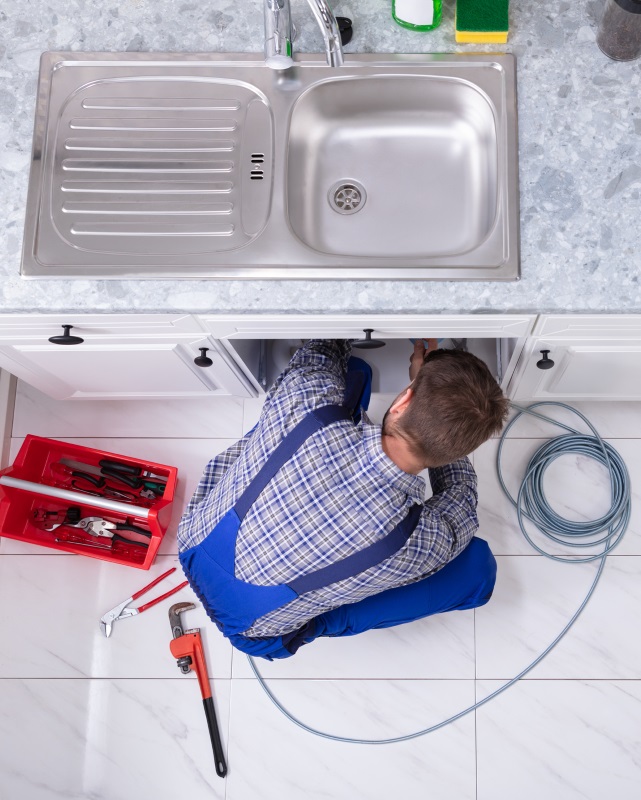 Local Plumbing Help is a Call Away
We've served customers in the Kenosha area steadfastly for over 25 years. As a family business, we hope Water Tight continues to provide homeowners and businesses with reliable plumbing services for generations to come. If you're located in Kenosha, Pleasant Prairie, Somers, Twins Lake, Silver Lake, Paddock Lake, or the surrounding areas, don't hesitate to call us for information or an estimate for a job. A shortlist of our plumbing services include:
Plumbing Installs
Our plumbing contractors excel in kitchen & bathroom plumbing installs and have experience with plumbing systems of all kinds. We work with homeowners and general contractors on installs for new builds and upgrades for remodels. As licensed plumbers, you can be sure our work meets the highest safety and efficiency standards. We'd be happy to tell you about our qualifications, availability, and why Water Tight is an excellent choice for plumbing installations. Call us!
Plumbing Repairs
Plumbing problems like clogged sinks, clogged shower drains, and leaky faucets happen without notice and they only grow worse until the cause is fixed. We can help you with the repair of toilets, bidets, sinks, faucets, garbage disposals, dishwashers, drains, and so much more. We can also repair and replace copper, steel, galvanized, and PVC water lines. You can count on our local plumbers to solve your plumbing issues quickly and thoroughly.
Water Heaters
No hot water, water that is warm but never hot, discolored hot water, and smelly water are all signs of a failing water heater. If you spot water around your water heater or hear rumbling sounds coming from it, you should have your unit checked out by a qualified plumber. Choose Water Tight for water heater repairs, replacements, & installs! We have the experience and resources to service gas, electric, and tankless water heaters. We can help you with power vent and expansion tank installation too.
Sump Pumps
We service sump pumps and ejector pumps. That includes installations, replacements, and repairs. We also have the experience and equipment to install sump pump and ejector pump pits. If you're interested in a battery backup system for your sump pump, we'd be happy to discuss your options. Whether you've noticed your pump running unnecessarily, not operating when needed, or making more noise than usual, call our plumbers for an inspection and recommendation for service.
Emergencies
We're available 24/7 for plumbing & sewer emergencies in Kenosha, Wisconsin. Overflowing toilets you can't get unclogged – flooding in your basement from a malfunctioning sump pump – no hot water – sewer backup — suspected gas leak — burst or leaky pipes — we can help you with all of this and more. Call us when you need emergency plumbing help – morning, day, or night.
Additional Services
Our Kenosha plumbers are here to help you with any type of residential or commercial plumbing problem. In addition to the services listed above, we can also help you with installations and repairs related to water service, water shutoff valves, dual check valves, code violations, and more. Contact us to find out if Water Tight is the right choice for your plumbing needs!
Sewer Repair Services in Kenosha, WI
Trust Water Tight Plumbing & Sewer for sewer services in Kenosha, Wisconsin. Your sewer is the most essential plumbing system in your home, don't wait to call for help when there are signs of a problem. Our licensed plumbers can help you with:
Sewer Inspection
Inspection is the first step to all sewer rodding & repair services. Our professionals use state-of-the-art cameras to inspect your sewer system. We'll locate & identify the source of your sewer line problem and determine the most effective solution for long-term relief. If you're interested in a quote on sewer inspection or ready to schedule an appointment, give us a call!

Sewer Rodding
Water Tight is an excellent choice for sewer rodding services in Kenosha! Toilet, kitchen sink, and shower drain clogs are common, and often easy to remove. Clogs in your main sewer line, however, are often more serious and caused by grease buildups, broken pipes, or tree roots that have invaded your sewer line. To keep your sewer line clean and performing efficiently, sewer rodding is recommended every 1.5 – 2 years.

Sewer Repair
Sewer line repair & replacement is a specialized service. To avoid further damage and ensure an effective repair solution, you want reputable professionals working on your sewer system. The licensed plumbers at Water Tight have the knowledge, experience, and resources to replace cracked or collapsed sewer pipes and decayed joints without incident. Whether the problem is caused by flawed installation, tree roots, or something else, we'll provide the right repairs for the specific needs of your sewer system.

Cleanout Installation
How many sewer cleanouts does your property have? There should be at least one drain cleanout near your home; some properties even benefit from more than one cleanout. If you do not have any cleanouts, it's a worthy investment. Drain cleanouts make sewer cleaning & repair easier. Clogs can be found faster and repairs completed more efficiently, saving you money on sewer rodding bills. Water Tight is qualified to provide sewer cleanout installations.

Call us at 262-484-4520 for more information on our Kenosha sewer services.

Plumbing Jobs Completed in Kenosha, WI
Trusted Plumbing & Water Heater Repair
Don't hesitate to contact us for an estimate on water heater installation, maintenance, or repair. As your 24/7 Plumber, we'll get back to you as soon as possible. Call 847-623-6810 for emergency services.